I finally extended my online existence to the platform of Patty Morgan. At this moment I have one fucking follower, #itssomething. Anyway, if you're on Patty Morgan, feel free to follow me! I'll be uploading lots of photos of my work on
During the Beyond Festival in Liempde I'll host an artist talk about my Rogier project! Hope to see you there. www.beyond.nl
My video DPRK will be shown at This Art Fair from 30th of December until the 3rd of January! I'm looking forward to see you over there, I also created some very fancy postcards with stills from the video as gifts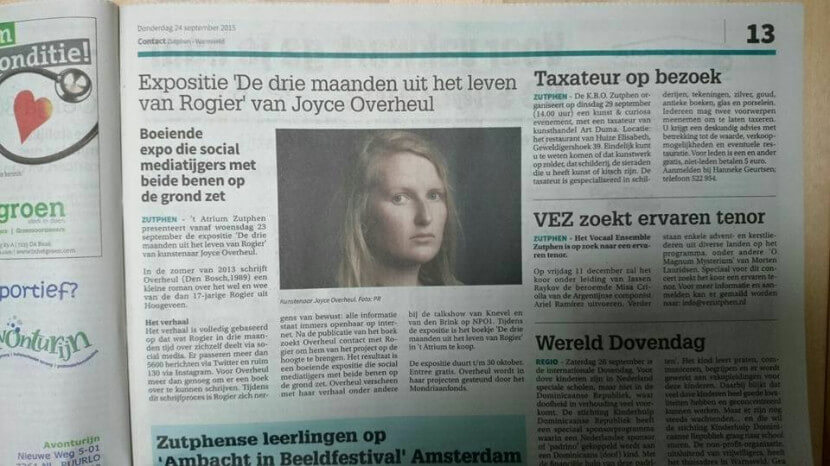 Some photos of the opening day of Project Rogier at Galerie 't Atrium in Zutphen (NL)! The exhibition wil run until the 30th of October. I made the local newspapers 3 times, wow!
Click on the read more tag for some more pictures!
The opening is held on the 23rd at 19:00hr. Hope to see you there!
Tomorrow I'll be having an artist talk at MOTI (Museum of the Image), Breda about the Rogier project. There will be lots of other interesting guests as well, so feel free to drop by if you happen to be around Breda
Interview with LUCY's Veronique Hoedenmakers about my work in general and also about my new project for the 'Diep Gaan' exhibition. Yay! Click >here< to read the full interview.
My DPRK film will be screened at NEST (Utrecht Science Park venue) on the 14th of April! 16:00 sharp, be there! Afterwards we'll have a chat/discussion/etc about the film and there will be snacks and drinks.